← Back to Communicating about the Common Core
What is Video Capture?
Video capture is the process of converting an analog video signal—such as that produced by a video camera or DVD player—to digital video. The resulting digital data are computer files referred to as a digital video stream, or more often, simply video stream.
Use the Nexus 7 camera to create a video (all teachers in CVUSD in 2013 received a Nexus 7 tablet)
Ways to Incorporate Photo and Video Caputure in Teaching and Learning
The 2013 Google Nexus 7 packs a 5 megapixel camera, producing still shots with a resolution of 2592 x 1944 pixels. There's no LED flash, so don't count on it doing wonders in low-light situations. The front-facing camera does 1.2MP stills.
The camera interface has been given a fresh coat of paint. With a simple tap and hold, a circle pops out giving you access to the various options. Once your finger touches a particular setting icon, it expands to reveal its options.
This is very similar to Quick controls in the browser (except that it works everywhere, not just the corners) and is quite handy on the big screen (instead of having to reach for a particular icon). Alternatively, you can invoke the settings circle by pressing the icon in the top right corner.
On the right hand-side there is a big blue button used for capturing. Beneath it is the camera/camcorder switch icon. From there you can choose to shoot panoramas and photo spheres, which we'll cover in depth in just a second.
Touch focus is available, too, and works reasonably fast – just make sure you don't hold your finger for too long as the settings circle will appear.
The interface lacks a shortcut to the Gallery app – it was replaced by a swipe to the right opens the Camera app's Filmstrip view. It gives you the ability to quickly discard any photos you've taken by swiping them up or down or just quickly glance at recent shots.









Asus Google Nexus 7 (2013) camera samples
Changing the Camera Orientation
These settings may vary by device.
To change photo settings, choose Camera mode, then touch the small circle icon beside the blue shutter button.
An arc of settings icons appears in the center of the screen. touch an individual icon to display or change its options. When you activate these options, corresponding icons overlap the edges of the small circle icon.
| Icon | Mode | Description |
| --- | --- | --- |
| | | |
| | Switch camera | Switch between the camera on the front to the camera on the back. |
1080P Video Capture
The camcorder interface of the Nexus 7 is almost the same as the still camera – you get the same panel on the right and quick settings when you hold your finger over the viewfinder.
A nice option is the switch to 720p video recording, should you decide you don't need the larger files that come with the increased resolution.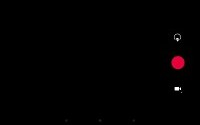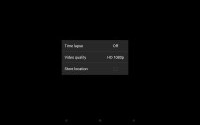 The camcorder interface
Photo and Video Sharing Basics
There are various ways of easily sharing your photos and videos with others. We're going to run through some of the basic methods for newbies, and then discuss some great apps and services, for casual or power users, that allow you to back up and share your photos with selected family and friends.
When you take a photo or video and review it – or you browse through your photos in the gallery app on your Android device – you'll notice a share icon at the top of the screen. It is three points joined by two lines; tapping on it will open your sharing options menu. This menu includes a list of all the apps and services that you can share photos directly with. At the very least, it will have Gmail and Messaging options.

To share an individual photo or video, just tap on the option you want and send it via email or text message, or post it to your account on Google Drive. Sometimes you'll have to resize it before you can send, but this is generally handled automatically and it won't affect the file you have stored in your Gallery app.
These options are all well and good if you want to share an individual photo or video, but what if you want to share or back up your whole collection, or create individual albums? What if you want to share with a lot of different people?
Images in Google Drive
Store, View, and Share Images in Google Drive
Google Drive gives you control over all of your file types in a single place, including images. With Google Drive, you can:
Sync or upload file types in the following formats: .jpeg, .png, .gif, .tiff, .bmp
View all of your images at a glance
Store up to 15 GB of images or other file types for free
Share images with other people without ever having to use an email attachment

View Images in Google Drive
From your Drive, click on the title of an image to open it in the Google Drive Viewer. Then, from the Google Drive Viewer, click the 100% button to view your image in its full resolution. To fit the image to your browser window, click the Fit to page button in the toolbar.
To view all of the photos you have in Drive, try using Drive's
grid view
.
Add Comments to Images
To add a general comment to an image in your Drive, open it with the Google Drive Viewer and click the Comments button in the top-right corner of your browser window.
To add a comment about a specific part of an image, open the image with the Google Drive Viewer and click the
Insert
comment
button from the toolbar. Click-and-drag your mouse over a part of the image to draw a rectangle, then type your comment in the box to the image's right.
Learn more about comments
.
Search for Images
To narrow your search results to images, click the drop-down arrow on the right side of the Drive search box, then select Images. You can then type a search operator and keyword in the search box at the top to search within your images only. For example, to find an image that Frank uploaded and shared with you, type "owner:Frank."
How to use the camera or camcorder on ASUS Google Nexus 7 2013

---
Demonstrations of Learning created by teachers in CVUSD 2013-2014 School Year
Paige Greenfeld, Bostonia ES

Neil Saffer, Madison ES
(Suggested video length for demonstration of learning 1-3 minutes)
---
Common Core Integration
Anchor Standard: Speaking and Listening
Make strategic use of digital media and visual displays of data to express information and enhance understanding of presentations.